Why Does Abuse Increase Over the Holidays?
– CALL FOR IMMEDIATE HELP (602) 825-2500 –
---
Listen To This Page:
---
---
Quick Navigation:
Domestic violence is a serious issue affecting people of all ages, genders, and backgrounds. Unfortunately, research has found that domestic violence can increase during holidays such as Christmas and Thanksgiving. This could be due to several factors, including increased stress levels, more family time, increased use of alcohol and drugs, and financial pressures.
It's important to remember that domestic violence is not just physical – it can also include screaming and yelling that that disturbs peace and quiet enjoyment, breaking items that are community property, verbal threats, and violating court orders.
If you or someone you know is experiencing abuse or domestic violence, or if you suspect it's occurring in your home or community, please reach out for help. Abuse resources are available to help individuals and families deal with this challenging situation.
Approximately 1 in 4 women and 1 in 9 men experience severe intimate partner violence, according to the Centers for Disease Control and Prevention (CDC).
Have You Experienced Abuse or Domestic Violence?
Learn How the Warning Signs and How to Get the Help You Deserve.
Or, Continue Reading Below About:
How Domestic Violence Increases Over the Holidays
What are the Four Factors that Contribute to Domestic Violence?
Domestic violence is a serious and pervasive problem that affects individuals, families, and communities. Research shows that four main factors contribute to domestic violence.
These four factors are power and control, environmental stressors, cultural norms, and individual factors.
Power and control are at the core of domestic violence; one partner may use physical or psychological abuse to gain power over the other.
Environmental stressors, such as poverty or substance abuse, can further increase tensions in the home.
Cultural norms that condone violence or gender inequality can also contribute to domestic violence in some settings.
Finally, individual factors such as mental health issues, personality traits like impulsivity or aggression, and a history of abuse can all put someone at risk for committing acts of domestic violence.
It's important to understand these contributors so that we can work toward preventing them.
One type of domestic violence is known as intimate partner violence. There is a rise in this particular type of domestic violence during the holiday season.
Recognizing the Warning Signs of Domestic Violence
Recognizing the warning signs of domestic abuse is important in protecting yourself and those around you. Domestic violence can take many forms.
Warning signs may include a partner displaying extreme possessiveness or jealousy; using intimidation or threats to control behavior; isolating you from friends and family, or belittling your accomplishments.
If you or someone you know is experiencing any of these behaviors, it is essential to seek help from a professional or seek out resources in your community.
Remember that there is no excuse for domestic violence, and it can be difficult to recognize the signs if you are in an abusive relationship. Knowing what to look for and reaching out for help are key steps in recognizing and addressing domestic violence.
What to Do if You or a Loved One is in an Abusive Relationship
If you or a loved one are experiencing abuse, it is important to know that you are not alone. It is essential to seek help from a trained professional like a therapist, counselor, or support group to ensure your safety and well-being.
Additionally, it can be helpful to create an emergency plan with a trusted friend or family member in case of any danger. You should contact local law enforcement for help and protection if the abuse escalates.
It is also important to remember that the abuser's behavior is not your fault and that you deserve safety and respect.
Lastly, take care of yourself by seeking supportive friends and family members who can provide emotional support during this difficult time.
An Experienced Attorney Could Provide Guidance on How to Handle a Situation Involving an Abusive Relationship
Here at Colburn Hintze Maletta PLLC, our attorneys can provide invaluable guidance in a situation involving an abusive relationship. We can advise on the best way to proceed and what legal options are available to you as a survivor, such as seeking a restraining order or filing for divorce. We can also explain how domestic violence can affect child custody. We can also help you understand your rights and explain any potential consequences of taking certain actions.
In addition, we have the knowledge to direct you to other resources in Arizona, such as counselors or shelters, which can provide emotional support and advocacy services. Additionally, other national resources are available to you, such as the national domestic violence hotline.
Our team of attorneys is trained to listen without judgment and provide the most appropriate advice tailored to your individual situation. It's essential to seek professional help when dealing with an abuser in an abusive relationship to ensure that your safety and well-being are taken into consideration.
Call 602-825-2500 as soon as possible, so we can be on your side to help you through such a difficult time.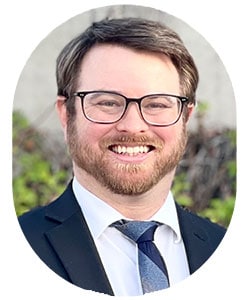 Attorney Darin Colburn has experienced first-hand just how difficult going through a family law matter such as divorce is when his parents divorced when he was 6 years old. Twenty years later, he has devoted his entire legal career to helping those facing similar issues. Darin attended the University of Arizona and graduated Cum Laude from the Eller College of Management. Darin is an experienced trial attorney that excels in high-net-worth divorce, complex business valuations, and messy child custody disputes.
Always Available 24/7 for Legal Help
Schedule an Appointment Today!
Real Client Reviews
Below are just a few of what our clients have to say!