– About Attorney Don Colburn –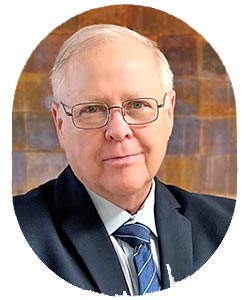 Don Colburn
Attorney
Listen to This Page:
(coming soon)
---
In my mid-twenties, the day I left Nebraska after graduating from law school to travel to Phoenix to begin practicing law, my father filed for divorce from my mother after a long marriage. This was my first "experience" with divorce. My father used my fraternity brother and "pledge dad" from my small hometown as his lawyer. I loved both of my parents and felt "in the middle" and conflicted. My mother never spoke my father's name again.

During my first twenty-four years in Phoenix, I practiced civil litigation with the largest law firm in the southwest. I became an equity partner and was on National Trial Teams and National Counsel for several Fortune 100 Companies handling repetitive product liability litigation.
In 1998, I gave up my previous career with "big law", and started a family law practice and my own firm in order to stay in Phoenix to raise my children, including my youngest, identical twin boys. At the time I was in the process of a three-year dissolution, followed by a three-year appeal, and subsequent proceedings with the Mother of my twin boys, one of whom I now have the privilege of practicing law with at Colburn Hintze Maletta, PLLC.
Since 1998 I have practiced primarily family law, my second twenty-five-year career. I have survived three of my own dissolutions, have experienced personally most if not all issues involved in a dissolution practice, and can relate to the frustration, anxiety, stress, and impact of the unknowns when going through a dissolution. Those were trying times for me, as they are now for my clients.

I can relate and empathize with clients because of my own personal experience and help guide them through a difficult time in their lives and a difficult process.
More recently, I had the privilege of working with my son Darin Colburn, practicing family law at another firm for several years, until he, Tim Hintze, and David Maletta founded Colburn Hintze Maletta, PLLC. I followed my son soon thereafter and have practiced at CHM Law since. I have been impressed by the firm's ability to offer high-quality legal services at a reasonable price. The firm practices with creativity and empathy and works hard to identify issues, provide options and costs, and risk/benefit analysis in order to allow clients to make the best-informed decisions and choices in their dissolution to achieve the optimum result.

The firm practices collaborative law, so regardless of who within the firm is representing you, you get the benefit of a lot of others' input regarding your case.
The firm uses technology in handling family law matters in order to achieve the best outcome for their clients. The firm also strives to deliver cost-effective legal services and represents clients to achieve the best solution and outcome to meet their client's goals. I jumped at the chance to not only work with my son Darin but the rest of the CHM Law team and I have not been disappointed. It is rewarding to share my experience with our clients and others at the firm.
Although many lawyers, especially family law attorneys, experience burnout, I still find it rewarding to help people through a difficult time in their lives and to help guide them to focus on the hope of peace and tranquility in life after the resolution of their family law matter. I am an example, although scarred by the process, that there is light and new life and independence at the end of the family law process. You can either be a victim or move on and learn from your past mistakes and life experiences.
I look forward to working with CHM clients in identifying options for handling their family law cases, developing client-directed strategies, and achieving, either through mutual resolution or hearing or trial, the best outcome possible for them in their family law cases. My personal background and experiences have given me the ability to help guide clients through the family law process and relate to what they are feeling and experiencing. It also allows me to counsel clients that no matter how stressful and fearful the process is, there is light at the end of the tunnel, and the potential for a new, independent, and peaceful life at the end of the process.
My strengths include identifying and communicating issues and options to my clients, and risks, benefits, and costs associated with those options, so they can make the most informed decisions possible as to the course of action they want to take on their case. My strengths also include being able to resolve matters that seem unlikely to be resolved, through negotiated settlement, before proceeding to a full hearing or trial and spending all of my client's resources. However, it takes two parties to reach an amicable resolution, and sometimes that is not possible.
Another of my strengths is my experience and expertise in preparing for and handling trials and hearings, if necessary, and presenting the best possible case for my clients before the Court.

During my 49-year career, I have handled hundreds of trials, and thousands of hearings, and have the ability to represent my clients at hearings and trials, if necessary, to the best extent possible.
I look forward to working with future clients and working hard for my clients to attempt to achieve the optimum, cost-effective, and informed outcome possible.
Areas Of Practice
Divorce, Legal Separation
Children Issues – Legal Decision Making
Child Support
Community Property and Debt Division
Business and Practice Evaluations
Separate Property and Debt
Settlement Conferences, Mediations, and Arbitrations
Modifications
Emergency Orders
Paternity
Relocations
Termination of Parental Rights
Jurisdictional Issues
Education
University of Nebraska, 1970, B.A.
Business Administration
 University of Nebraska College of
Law, 1974, J.D. with distinction
Summa Cum Laude